About Carolina Therapy Connection
Carolina Therapy Connection is a pediatric practice serving children birth through adolescence all over Eastern North Carolina. We currently have locations in Greenville, Goldsboro and New Bern. Our team consists of Occupational Therapists, Physical Therapists, Speech Language Pathologists, Mental Wellness Therapists, and Educational Specialists. As our team of specialists work to help your child reach their goals, you will begin to see remarkable changes in their skills and abilities. More importantly, you will see the happiness and confidence this brings to your child, and the peace of mind this brings to your family.
Carolina Therapy Connection is a pediatric practice that embodies informing families, enriching lives and changing futures. Our mission is to offer families a warm and supportive environment where they can learn about their child's developmental needs and how to nurture their child's capacity to succeed. Our aim is to help children reach their potential by treating the whole child using techniques learned from experience and directed by evidence-based practices. We use moral ethics to provide direction and guidance for the team while working together around a common goal.  We honor that each child is a member of a family unit where parents, siblings, and extended family each influence the child's experiences.
Our philosophy centers on the idea that children learn about their environment and how to exist within their environment by playing and interacting with their surroundings. We believe it is critical to make therapy as fun and motivating as possible by celebrating the small victories as well as major achievements. Having an open mind to drive innovation, we believe the clinic should be an educational resource to provide the community with direct access to the latest research and developments in pediatric habilitative and rehabilitative services. We value honesty and creativity and we respect the clients, therapists, partners and community we serve.
We offer recently renovated and expanded, state-of-the-art sensory clinics that provide an enhanced sensory experience to help your child develop the skills necessary to improve learning and development. Our Greenville sensory gym is the largest in Eastern North Carolina! At Carolina Therapy Connection, we strive to make our pediatric clinic spaces a safe and fun environment for children of all ages.
OT's help children gain independence in developmental skills such as: play, school performance (handwriting, fine motor skills, attention), self-care skills, motor coordination,  feeding skills, and sensory processing skills. OT sessions are between 30-53 minutes.
PT's support a child's motor development by assessing and treating muscle strength, coordination, balance, endurance, sports performance, pain, developmental milestones (crawling, walking, climbing), neurological function, and posture. PT's also help children recover from an injury or surgery and assess for adaptive equipment. PT sessions are between 30-53 minutes.
Speech language pathologists are trained in the evaluation and treatment of a variety of speech, voice, reading, swallowing, and language disorders. They help to build communication skills, social skills, feeding skills, and can also assess for an augmentative communication  device. Speech sessions are 25-30 minutes.
Educational services consist of consultations and evaluations with our education specialists.  We perform informal assessments, standardized tests, evaluator observations, criteria referenced tests, checklists and interviews to better understand your student's areas of learning strengths and needs. We consult with caregivers about responses and services provided by the school; determine the areas of academic strengths and weaknesses; and implement academic-focused services.
We provide services to children in the clinic, school, and home settings. For children who are enrolled in the early intervention/infant-toddler program (CDSA), services will be provided in the child's natural environment (i.e. home, daycare, etc.). It is expected that families be present throughout therapy sessions in order for the caregivers to effectively learn the skills necessary to perform recommended activities for optimal carryover.  Caregiver education is a vital part of each therapy session.  Parents are encouraged to participate in therapy!  Therapists usually work on 2-4 goals per session, depending on the needs of the child. The therapist will document your child's progress as this is often required by insurance companies to show progress.  Reevaluations will be performed every 6 months or sooner to monitor  progress towards short term goals.
For children who receive services in the school or daycare setting, we will work closely  with both the family and teacher to schedule the best time and day for therapy sessions. We  value and respect the role of teachers in the successful development of children. We strive to  give parents and teachers the tools, information, and support they need to ensure that each  child's fullest potential is achieved. Consultation services are also available for families,  students, faculty and administration.
Carolina Therapy Connection Greenville, NC – Certified Autism Center™
Carolina Therapy Connection of Greenville, NC is now the first Certified Autism Center™ (CAC) in Eastern North Carolina. The CAC designation is granted by the International Board of Credentialing and Continuing Education Standards (IBCCES). This certification requires staff to complete autism-specific training and professional certification. Carolina Therapy Connection is one of only two therapy clinics in NC with the Certified Autism Center designation. The Carolina Therapy Connection listing for becoming a Certified Autism Center can be found here.
For more than 20 years, IBCCES has been the industry leader in cognitive disorder training and certification for education, healthcare, and corporate professionals around the globe. IBCCES provides evidence-based training and certification programs created in conjunction with clinical experts and individuals with autism in order to provide professionals serving individuals with cognitive disorders a better understanding of what these disorders are, industry best practices, and the latest research in these areas.
All Certified Autism Centers™ meet the following requirements:
Dedicated to serving individuals with autism
At least 80% of staff is trained and certified in the field of Autism
Maintain compliance with National Healthcare/Education Accreditation standards
Committed to ongoing training in autism
Complies with HIPAA and ADA requirements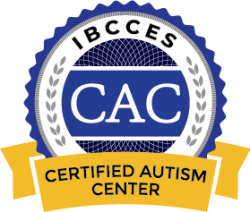 Our Mission
Informing families, enriching lives, changing futures!
Our Vision
Carolina Therapy Connection's vision is to be the regional leader of skilled professionals providing diverse, collaborative services for children and their families.
Our Core Values
Compassion- Providing a warm and loving environment for all families and team members
Creativity- Having an open mind to drive innovation
Celebration- Celebrating the small victories
Collaboration- Working together as a team around a common goal to serve God's children
Compass- Using moral ethics to provide direction and guidance for the team
How Do I Get Started?
If you are interested in scheduling a screening, evaluation, or just want to learn more about our services, call or email us to get started today! Our referral coordinator will help answer any questions you may have and make the process as easy as possible for you!
New Patients