October is filled with so many exciting things, the start of fall weather and holidays approaching; but did you know that October is also Down Syndrome Awareness Month? Established for over 40 years, it is a time to recognize and celebrate our friends with Down Syndrome and the amazing abilities they have!
What is Down Syndrome?
Down Syndrome is often called Trisomy 21, though there are actually three types: trisomy 21 (nondisjunction) which makes up 95% of cases, translocation (4%), and mosaicism (1%). It occurs in approximately 1 out of every 691 births, and more than 400,000 people are living with Down syndrome in the United States. These individuals are born with an extra copy of the 21st chromosome. They are able to work, go to school, develop meaningful relationships, make their own decisions, and participate in society however they wish! According to the National Down Syndrome Society, "Quality educational programs, a stimulating home environment, good health care, and positive support from family, friends, and the community enable people with Down Syndrome to lead fulfilling and productive lives."
You are welcomed here!
Here at Carolina Therapy Connection, we are honored to serve our families who have children with Down Syndrome! One of our special friends, Hannah Hill, has made tremendous progress in her therapy. Her mother stated, "Because Hannah is very verbal, people often ask me if she has a 'mild' case of Down Syndrome. It's not commonly known that there is no 'spectrum' of Down Syndrome! You either have it or you don't! While the extra chromosome does impact their lives, people with Down Syndrome are unique, and have their own strengths and weaknesses. They have physical features, personality traits, abilities, challenges, interests, successes, and failures just like everyone else!"  
Hannah: Age 8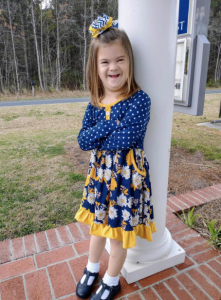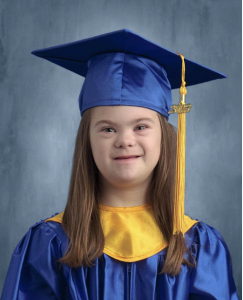 How can therapy help?
Speech therapy services provided by a speech-language pathologist reap great benefits. Many children with Down syndrome develop language later than same-age peers. Low muscle tone could also impact the ability to produce speech sounds accurately, and therapy is paramount to helping a child develop the ability to confidently and effectively communicate their thoughts, feelings, wants, and needs. SLPs can provide assistance with prelinguistic and oral-motor skills, as well!

Physical therapy can help a child with Down Syndrome starting at a young age to increase strength and gross motor development. From rolling and sitting, to developing an efficient walking pattern, and even participating in sports, physical therapy can make a huge difference in a child's life. In a physical therapy session, our PT's will focus on things such as: gross and fine motor development, balance, coordination, and age-appropriate daily living skills. 

Occupational therapy can assist people with Down Syndrome in learning to complete many everyday tasks. Occupational therapy will provide support specifically in three areas, motor, cognitive, and sensory integration. Specifically, an occupational therapy session may include activities that promote self-care, fine motor, play, and social skills!
A Total Communication Approach 
Many parents are excited to begin therapy and learn ways to promote and enhance communication for their children. According to our colleagues at the Boston Children's Hospital Down Syndrome Program, a Total Communication Approach can be beneficial! The Total Communication Approach means using any functional means of communication; this could include: verbal speech, ASL, gestures, pictures, and/or simple or high-tech communication devices. Many children with Down syndrome are visual processors, and the goal of Total Communication is multi-sensory (i.e., visual, auditory, tactile, etc.) in order to encourage any form of expression. What are some ways to facilitate this approach at home?
Visual input: Pointing to objects and pictures that you are naming or describing. 

Use sign language for basic words (eat, want, bath, play, etc.). Research shows using signs increases understanding and offers an additional method for communication. 

Incorporate music into pretend play.

Joint book reading. Follow your child's lead!
How can Carolina Therapy Connection help?
Children with Down Syndrome often benefit from therapy from skilled professionals, including speech-language pathologists, occupational therapists, and physical therapists. At Carolina Therapy Connection, our treatment is highly individualized to your child's needs. A standardized assessment will be administered to detect any delays, and our therapists will work with you and your child to develop a plan for enhancing skills to  build confidence across all social environments (home, school, social groups, etc). If you have any concerns or questions regarding your child's development, call our clinic at (252) 341-9944.
By Ashley Holloway, MS, CCC-SLP, CAS