AAC stands for Augmentative and Alternative Communication. It encompasses all of the ways in which an individual may communicate outside of speaking verbally. Augmentative communication means to add to someone's existing speech skills, and alternative means to be used in place of verbal speech. There are many different kinds of AAC including, but not limited to: gestures, facial expressions, writing, pictures symbols (e.g., picture exchange communication system/ PECS), drawing, sign language, high-tech speech generating devices, communication boards, etc. Some people may use one of these modalities, and some may use multiple modalities depending on the way in which they can most quickly and clearly communicate the topic.
Who Needs AAC?
Many different people use AAC throughout their lifetime. It can be used across the lifespan by any age, at any time, and for a variety of different reasons. Some people use AAC for their entire life, and some use it for only a short period of time. AAC can help any person who has difficulty fully or partially meeting their daily communication needs such as expressing wants and needs, socializing, asking questions, and a variety of other functions.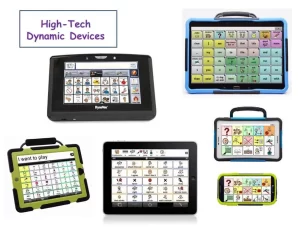 How can AAC help your child?
AAC may be able to help your child if they have difficulty being understood by others, have a limited vocabulary, demonstrate limited spontaneous speech, are non-speaking, and a variety of other different reasons. There are no prerequisite skills to your child beginning to use AAC. One common misconception is that AAC will hinder language development or cause your child to become dependent on it for communication. While some children may have minimal to no verbal speech throughout their lifetime, there is research to show that AAC can actually help children to develop language. Using AAC can also help to reduce frustration surrounding communication attempts, and help your child to communicate their needs more clearly, quickly, and effectively.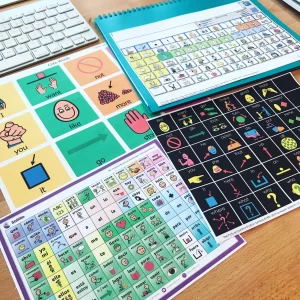 Parent's Role in AAC
When introducing AAC to your child, it is important for family members/ caregivers to make the commitment to help the child succeed with the chosen AAC device. Your input is crucial in helping to choose and develop an appropriate AAC system, and using the device at home and in the community is a vital step to help both you and the child continue to learn the system. According to Jane Korsten, SLP, the average 18-month-old has been exposed to 4,380 hours of oral language at a rate of 8 hours/ day from birth. A child who has a communication system (AAC) and receives speech/language therapy 2 times/week for 20-30 minutes will reach the same amount of language exposure (in their AAC language) in 84 years. It is our role as professionals and caregivers to help minimize the communication gap between oral language users and AAC users. 
Modeling:  Modeling is an awesome way to both learn your child's AAC system, and teach them an example of how they can use it. The best way to model is to speak and use the system at the same time, although you do not always have to select an icon for every word you say. For example, you may verbally say "time to go to school" while modeling "go" and "school" on the AAC system. A general rule of thumb is to model the number of icons your child is currently using, plus one. If your child uses 1 icon at a time, you may choose to model 1-2 icons at this time. It is important to model without expectation, meaning that you use the AAC system without expecting or requiring the child to respond, withholding items or activities, or "testing" their skills. The goal is to provide an example to the AAC learner, which they will then learn by watching and listening to what you do/say.
How can CTC help you and your child?
Whether your child is already receiving speech/language therapy services at our clinic or not, CTC is ready to help support both parents and children through their own individual journey with Augmentative and Alternative Communication. If you believe that your child may benefit from the use of AAC, talk to one of our many incredible speech-language pathologists to begin the process of figuring out what type of system (no tech, low-tech, mid-tech, high-tech) will work best. This process can take time, but with your support and the support of your SLP, it is possible to find the right system for your child!